Increases Employee Performance and Engagement with Online Training
"Lessonly helps us develop employees and grow them as leaders. And that has had an effect on our retention. We have stopped that line from going down and we're starting to see a trend upward."
—Isaac Wilson
Manager of Learning & Development,
Goodwill of Central & Southern Indiana
With more than 104 locations—including retail stores, schools, warehouses, janitorial sites, and nurses' offices—and 4,000+ employees, Goodwill of Central & Southern Indiana is as complex as any major enterprise business. When Isaac Wilson, Manager of Learning & Development, started in Goodwill's Central & Southern Indiana office, they didn't have any onboarding, orientation, or training for retail managers and workers. According to Wilson, "Retail sites had nothing formalized. It was all whatever the manager could put together at the last minute."
The Goodwill team tried a number of training strategies. They offered an onboarding binder that each retail store manager could use to conduct training. But this content was never up-to-date and relied on the manager to deliver the training. Similarly, managers often went through classroom training at one of Goodwill's corporate offices.
Courtney Reeves, Senior Manager of Talent Acquisition, noted that one of the greatest challenges for Goodwill was geography:
"With our retail footprint, we are geographically very spread out. It takes a lot of travel time and expense to get people here for classroom training. So, for us, having the opportunity to have something that can be on-demand as needed, easily accessible, is very important for my leaders."
Initially, Goodwill explored a more traditional eLearning platform. But after a tedious implementation process and low employee engagement, Isaac was excited to encounter Lessonly, "It was a much better system with a much cleaner interface where learners would actually be willing to get on there and explore—rather than just see a dated platform and instantly turn it off."
The Goodwill of Central & Southern Indiana team deployed Lessonly in their retail stores for onboarding and continuously training both managers and associates. With many first-time managers across a large geography, Lessonly made training at scale possible for the business. Isaac notes:
"As the single learning and development professional in the organization responsible for almost 4,000 employees, it's really difficult for me to be face to face with all of those new employees. Lessonly enabled me to touch all the different new people that came on board."
Goodwill also added devices to the back room at each retail store so that employees could complete lessons during breaks. That training content is also available via mobile, anywhere, anytime. Courtney adds, "The great thing about Lessonly is that employees can go through specifically what they're struggling with. So, instead of two hours, they might be only investing 10 minutes and getting what they need."
Isaac designs much of the training that is used by thousands of Goodwill employees, using Lessonly's intuitive lesson builder to make it engaging. "Often, I will grab animated GIFs from the internet and stick them in there as a way to sort of engage learners. It's also really easy to embed videos from YouTube, Vimeo, or whatever source….Being able to put enhanced content into Lessonly is a lot easier than the other platforms we were using before."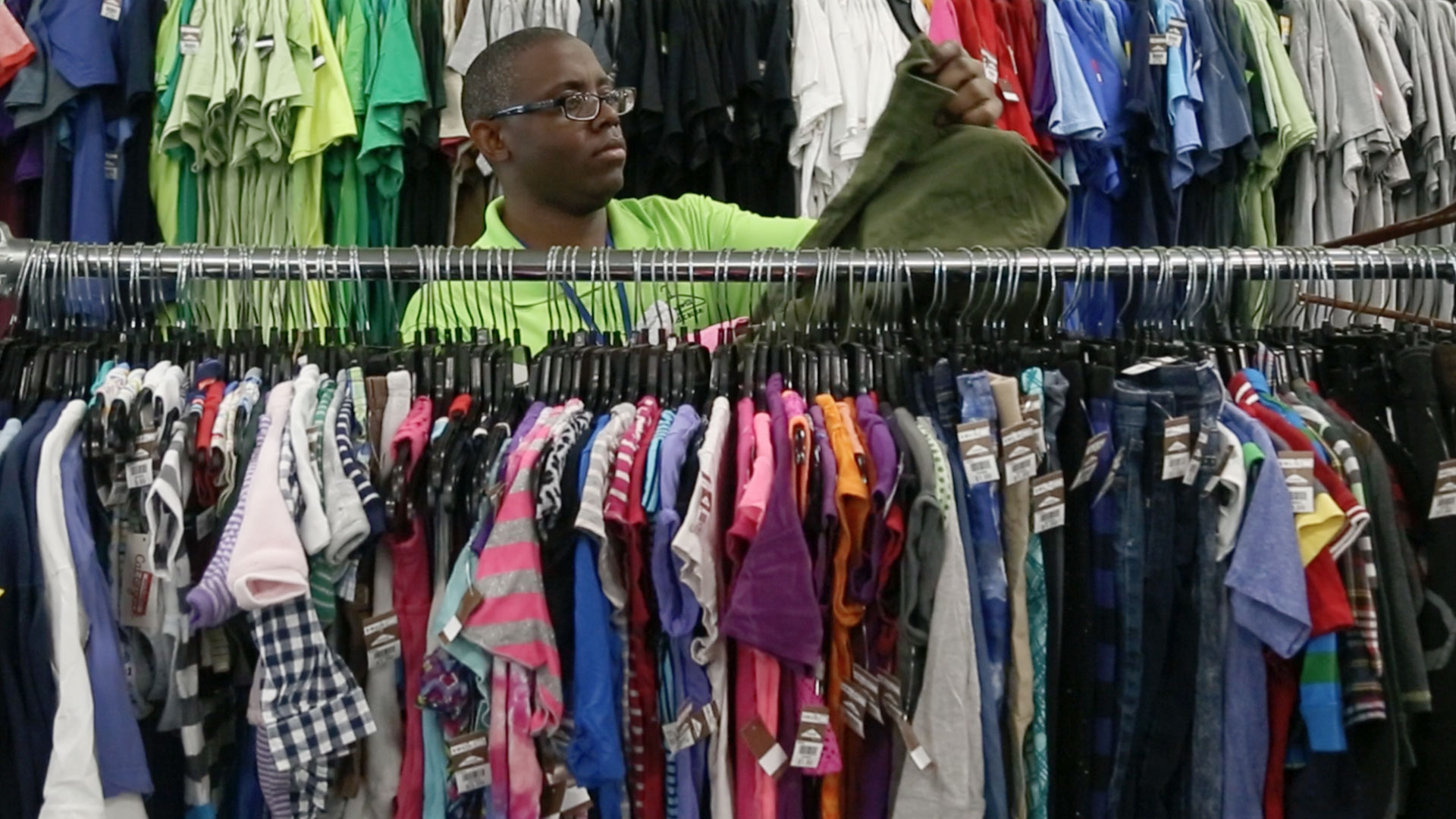 And since Isaac is the only learning and development professional in the organization, he also enables subject-matter experts across different divisions and departments to create lessons. This is when simplicity becomes key. "For an organization that has retail, education, nursing, and all the different areas that Goodwill has, I'm able to work with the different experts in all those areas to be able to put in content themselves. That has been a huge enabler for us to get learning across the organization."
Lessonly enables a powerfully simple experience for learners completing the content, too. Bridget Gramling, a Retail Store Manager for Goodwill, loves using Lessonly in her store. "When I went through training, I really enjoyed it. It was really easy…And with my new team leads—my management—I always make sure that they're doing that because it's really beneficial."
"The great thing about Lessonly is that employees can go through specifically what they're struggling with. So, instead of two hours, they might be only investing 10 minutes and getting what they need."
—Courtney Reeves, Senior Manager of Talent Acquisition
Lessonly has filled a huge gap for the Goodwill team, and the new training process has been praised across the organization. Isaac notes, "I got a lot of feedback right off the bat. Even our veteran managers who had been here for 10 years were saying, 'I learned something new through this and I'm so glad that there's finally something for me to be able to improve my own work and the rest of the leadership team around me.'"
Bridget has seen the impact in her management team. "The managers that I've hired since we rolled out Lessonly, they know more—and you can tell that their confidence is a lot higher." And leaders aren't just more confident, they're more independent. "I've noticed rather than asking me questions, they'll log in to Lessonly and figure it out for themselves."
But Isaac, Courtney, and the Goodwill team don't just want to hear good things about their training with Lessonly—they want to measure the impact. Isaac notes, "Lessonly helps me not only deliver content to learners, but also track that. I'm able to see how often learners are getting into the system, how satisfied they are with the content, whether or not the content is relevant to their role, and I'm able to get instant feedback from them entirely through the Lessonly platform."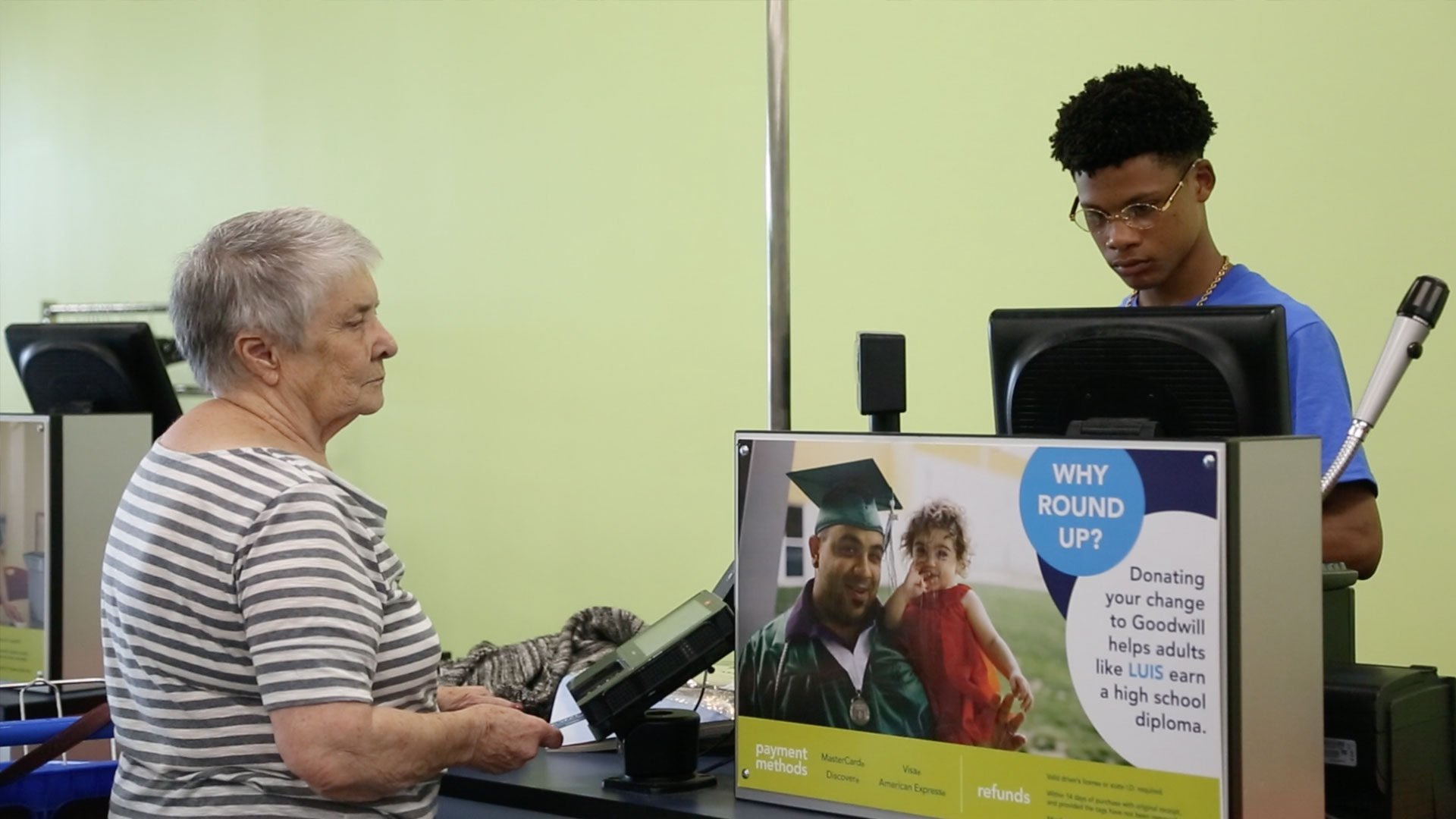 Goodwill's primary goal with Lessonly is to increase employee retention in a competitive job market. With the professional development opportunities offered to employees in Lessonly, they are feeling valued in new ways, and Lessonly is contributing to a reduction in employee turnover. Isaac notes, "We have stopped that line from going down and we're starting to see a trend upward."
"The customer service of Lessonly is absolutely top notch. Whenever I have a question, they get back to me immediately and with whatever answer I need at the moment. I do feel like a special partner with them."
—Isaac Wilson, Manager of Learning & Development
Lessonly isn't just a software tool for Goodwill—it's a full training solution and partnership. Isaac notes, "Right when we started partnering with Lessonly, there was a whole team of individuals helping us get all of our content transformed into Lessonly and work through those small, little logistical details to make sure that our implementation would be perfect right off the bat."
Lessonly's Services team transformed all of Goodwill's existing content in Lessonly, which took a load of Isaac's shoulders. "I was able to give them all of my old content that had to be transformed into Lessonly…I don't have enough time to do all of that. It was really great to rely on someone to pick up the mantle and run with it—rather than me having to do everything just to get the system running."
Similarly, Lessonly's product team was ready to work with Goodwill to build a better training program for the future.
In addition to updating the Goodwill team about the future of the product, the Lessonly team worked with Isaac on custom solutions, "They would take what I had to tell them and were able to change a few things on the backend to make it work for us."
Lessonly exists to help frontline managers like Bridget and her team do better work. And we're proud to be just a small part of the way Goodwill is improving the work-lives of their employees—and in turn, the experience of their customers. Bridget notes, "A lot of things that have been rolled out in different companies that are thick manuals that you have to sit and read. But with Lessonly, it's just short, two to five-minute trainings. The content is really valuable. It's not just fluff information. I'm a huge advocate. I love it."
With 99.9% learner satisfaction, Isaac is excited about how Lessonly has—and will continue to impact Goodwill of Central & Southern Indiana. "Our retail area was very hungry for this kind of thing—and I think they're happy to finally have it."